02/23/2018
Pat from Riverside MOTORS & Econo PARTS has retired his old desert rally Beetle bodyshell and made it into a super cool shop decoration.
12/14/2017
Safari-Porsche by LuftAuto from STANCE|WORKS
Beautiful and inspiring looks
Functional details
Rallying...
My only complaint is that it reminds me of an old SAAB from this angle...
08/25/2017
Pictures from this years edition of Scandinavian Cal-Look Classics, an annual event that takes place in August at Gardermoen Raceway in Norway. This year saw a very good turnout of cars and people, and as always it was a fun weekend with good friends, beautiful cars and great racing.
Picture from our club convoy on our 1000 km round trip to SCC
Newly restored Rometsch in bare aluminium in the Screwdrivers tent
Great looking T1
Tough looking T3 Syncro
One of few custom T4 at SCC
Custom toys even for the children
Part of the cal looker palette at SCC
A Ruff custom bicycle getting some pinstriping done
A nice Type 3 trio in the Show 'n Shine area on Saturday
Clean looking Fastback/TL
A Notchback with a Porsche 911 engine. Must be nice...
08/15/2017
A new 2110 engine has been waiting to be finished and put into use in the Variant for some time, so last autumn I pieced it together and got it ready to be bolted in. I also took the time to tidy up the engine compartment a bit...
07/28/2017
05/09/2016
02/08/2016
I had to take out the transaxle to rebuild and modify the rear suspension, so to be able to move the car around in the workshop in the meantime, I made a simple tool (inspired by an old VW "Local Manufacture of Workshop Equipment", but with a useful modification).
The original VW tool (#676, "Caster and bracket"), courtesy of the Samba: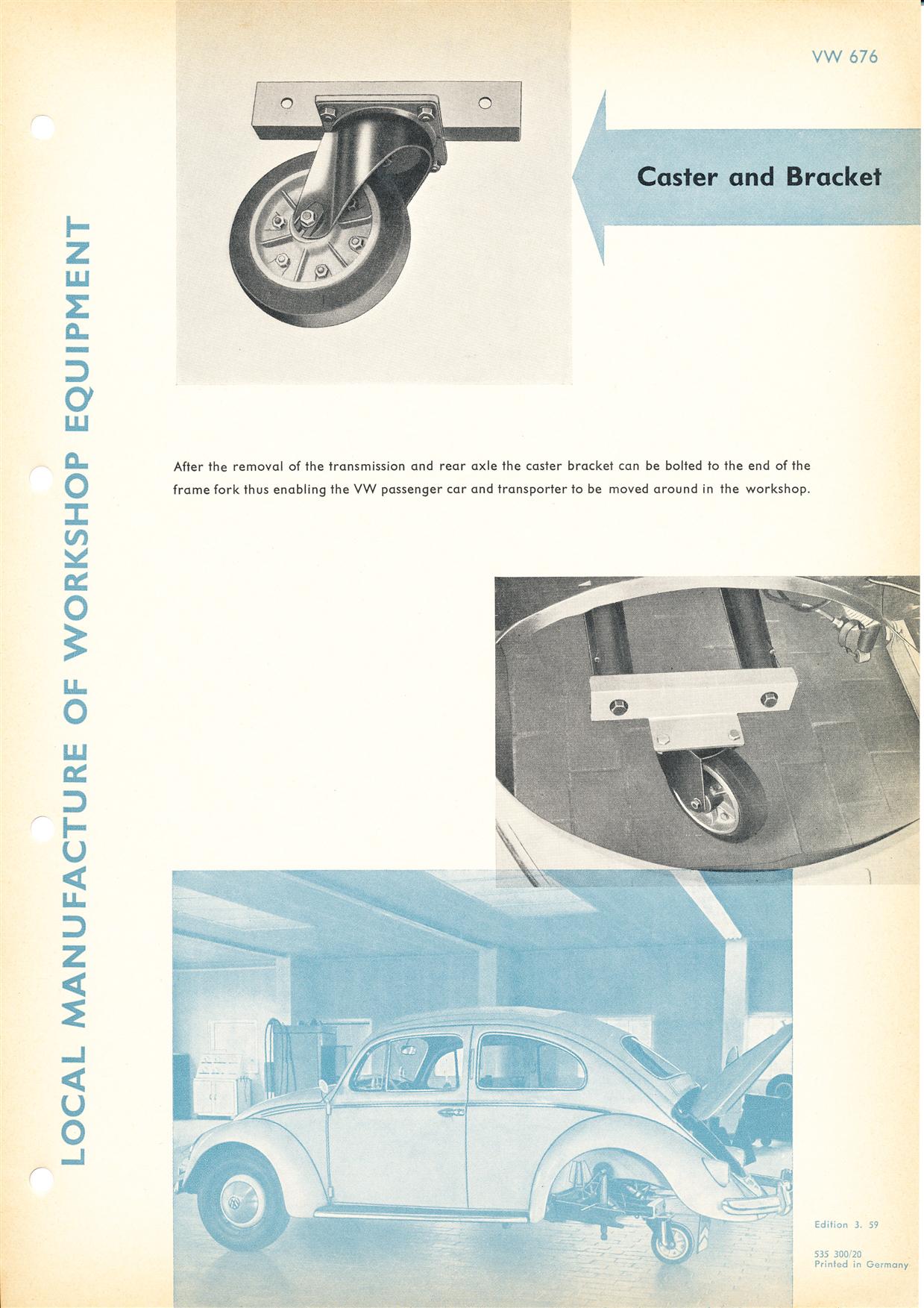 I decided to use a trailer jockey wheel instead of the caster in the original tool, so I'll be able to lift the rear end and put it down on axle stands without using a jack.
The parts before assembly. The steel profile is a SHS 100X10. The wall thickness is a lot more than I really need, but a friend of mine had this one lying around :)
The jockey wheel clamp bolted to the SHS, ready to go into the car.
01/05/2016
10/30/2015
The time has come to put the Variant to rest for the winter
07/01/2015